100% certified
Azoth CBD is a biological product. All the links in the production process must meet strict requirements and be inspected from the hemp seeds to the bottling of the final product. We can guarantee you that our products by our stringent checks carried out during the whole production process, of the highest possible quality. We believe in transparency, while the health of our customers is paramount.
The CBD oil of Azoth is produced from own hemp plants used in a safe and clean way without harmful substances to grow in our own hemp fields.. This is important for a as clean as possible to produce it. Both the pure raw materials as the used extracts are tested for quality. This results in a pure and pristine product. Azoth is located in the Netherlands and we deliver our products all over the world.
guaranteed percentage CBD
Our CBD-oil is extracted from the flower and leaf of the hemp flat. Our CBD production method is the safest, but also the most expensive way to win CBD . The plant material is under high pressure is cooled using CO2. The CBD oil is extracted, resulting in a very pure oil is produced which already has retained its medicinal properties. We have invested in the best machines and equipment for the production of pharmaceutical CBD level. But a hand full of other producers can match our product.
We guarantee that we deliver what is described on the label. Our founders have a background in the biotechnology and chemistry. That means that we are committed to providing a consistent and thoroughly tested product with exact quantities CBD. The health of our customers is our main concern. You can put your health on the game by CBD to buy companies that produce products chemical and solvents, residues, pesticides, heavy metals, micro-organisms, fungi and other impurities.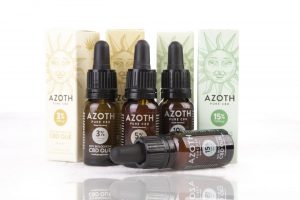 tested by third parties
At Azoth we believe in thoroughly testing. For a good lab analysis is the next to the testing of the CBD percentages necessary to test for pesticides, heavy metals , micro-organisms, fungi and other contaminants. Simple, transparent and honest.
We test all our products at every phase of the production process . We test our seeds, we test our hemp plants while they grow in the fields and we test our CBD extracts by each stage of the purification process . Only by doing this can we guarantee that our products are pure and are safe.
To ensure the quality of our products tested by an independent laboratory. We think it is important that you understand the reports. That is why the results published online.
We wish to caution for companies who claim that their product was tested by an independent laboratory. It is easy for businesses profit made by buying cheap hemp from countries such as China, Russia and South America. A consumer has no knowledge of the seed strain, the type or quality, or that there are pesticides or fertilizers in the growth process is used. Especially if there are no independent laboratory tests is available. Azoth is perhaps more expensive than those of other companies, but we are of the opinion that it is worth your health in the long term. We advise you to look at the quality and not to low prices.